Pennsylvania Free Legal Answers Seeks Volunteer Attorneys
5/20/2021
Pennsylvania Bar Association Pro Bono Office
The Pennsylvania Bar Association, in collaboration with ABA Free Legal Answers, has launched Pennsylvania (PBA) Free Legal Answers and is just now seeking volunteer lawyers to participate in the program. Client questions will be solicited once enough lawyers have signed on to the site.

The program is based on the walk-in clinic model long employed by the PBA Pro Bono Office at its legal needs clinics, where clients request brief advice and counsel about a specific civil legal issue from a volunteer lawyer, or from a law student or paralegal working under the direction of an attorney volunteer or staffer. Volunteers provide information and basic legal advice without any expectation of long-term representation but there is always the option, if the client and lawyer wish to pursue such representation, for the lawyer to take on the client for a fuller pro bono representation. Pennsylvania (PBA) Free Legal Answers replicates this system using an online format where questions are submitted through the Pennsylvania portal of ABA Free Legal Answers.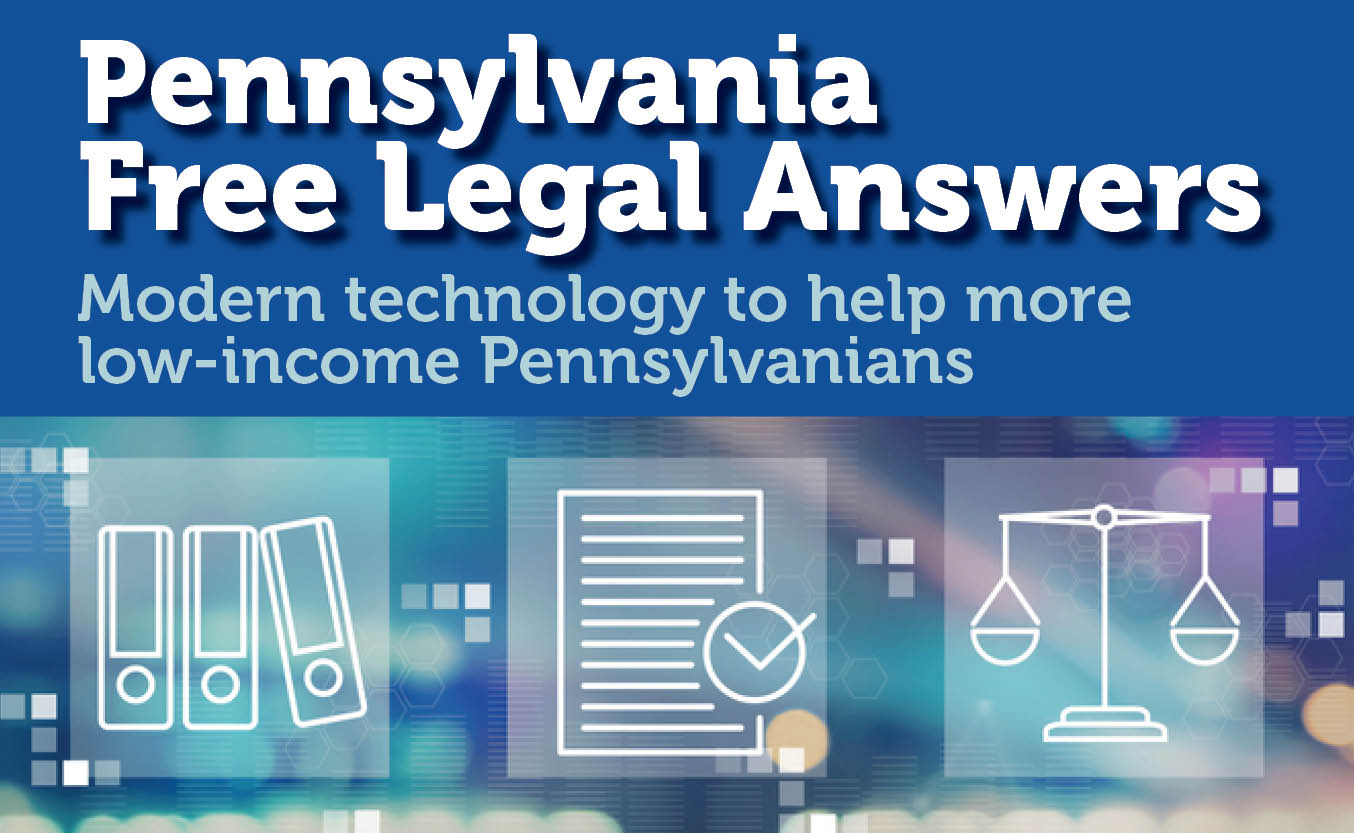 Sandy Ballard, Public Interest Coordinator for the Dauphin County Bar Association, is excited about the new program:
"Pennsylvania (PBA) Free Legal Answers is a great way for busy attorneys to quickly and easily provide much needed legal advice to those in need. Attorneys can log into the site at any time day or night. attorneys can carefully review available questions and select those question on familiar topics or questions with an interesting twist."

"With malpractice insurance and no requirements for minimal hours or prior training, there's no reason not to register." Ballard added. "Free Legal Answers is an automated tool that uses modern technology to help more people. I am thrilled to see Pennsylvania join the rest of the participating States and become part of this team."
Users who meet eligibility requirements for using the site sign the user agreement and create a password to set up a user account. They can then post a request for legal advice or information and provide facts about their case that will help the lawyer answer the question. Users select a category (such as "housing" or "debt") that best describes their question so that attorneys experienced in that area of the law can volunteer to address the question.

Volunteer attorneys are encouraged to:
Engage in a dialogue with user concerning their problem so that the attorney can determine if the matter involves an actual legal issue;
Inform the user about the appropriate state and/or federal law that applies to their situation;
Suggest options regarding how the user may proceed with the matter;
If applicable, provide them with legal forms or other documents that can assist them by attaching them to the response; and
Direct users to other resources by providing links to websites and phone numbers of other organizations/services where they might receive additional assistance including resources located on the site at: PALawHelp.org.
Lawyers who would like to participate can sign up as a volunteer attorney at https://pa.freelegalanswers.org/Attorneys/Account/Agreement. Read through the material on the page and feel free to check out the Frequently Asked Questions from Pennsylvania Volunteer Attorneys before clicking on the I Agree button at the bottom of the Attorney Agreement page.
To complete the sign-up process volunteers must:
Create a password to set up a volunteer account;
Provide contact information and their Pennsylvania Attorney ID number;
Sign the Attorney Use Agreement.
Before the lawyer's account is activated, the website administrator checks to ensure the lawyer is licensed in Pennsylvania and is in good standing with the Disciplinary Board of the Supreme Court of Pennsylvania. Once a lawyer has been approved by the website administrator, the lawyer receives an email notification and can begin answering user questions.
Lawyers may log in at any time to review a list of user questions and select the one(s) they want to answer. Lawyers will use the categories provided by the user (such as "housing" or "debt") to help determine which questions they would like to answer. A lawyer will have the opportunity to read the full question before deciding to take it from the list and answer it.
Once a lawyer takes a question from the list, the lawyer has three days to provide, at minimum, one answer to the question. Lawyers will be allowed to ask follow up questions if they need additional information in order to answer the user's question. The lawyer's identity is not revealed to the user unless the lawyer decides to do so. Once a lawyer answers a question, the user will be sent an email to alert them they have a response waiting.
Lawyers will be able to view a log of questions they have previously answered in their History.
Wes Payne, a longtime champion of justice who will be Chancellor of the Philadelphia Bar in 2022, sees Pennsylvania (PBA) Free Legal Answers as a "great way to involve new volunteer attorneys in pro bono service." He adds: "As a not so new pro bono volunteer, I am excited to sign up and see how the interactive system works to help those in need both in Philadelphia and across the Commonwealth."
Frequently Asked Questions from Pennsylvania Volunteer Attorneys
Volunteer Attorney Registration