Central Pennsylvania lawyer John W. Frommer Receives PA Bar Association Ernico Award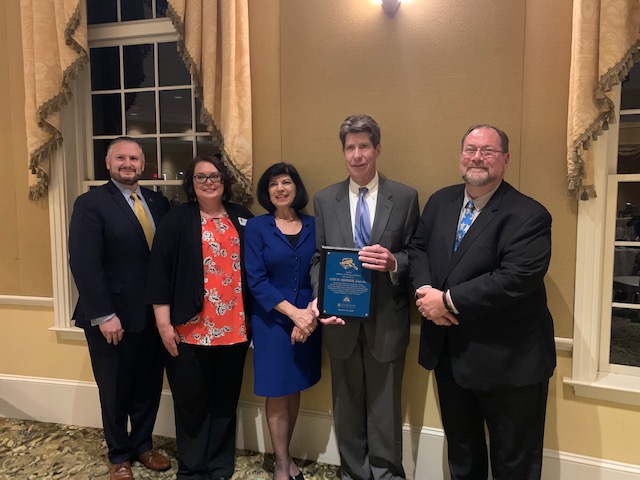 Pictured are (left to right): MidPenn Legal Services Managing Attorney Paul Edger,
Cumberland County Pro Bono Coordinator Shawna Staub, PBA President Anne N. John,
Awardee John W. Frommer and PBA Pro Bono Coordinator David Trevaskis
---
The Pennsylvania Bar Association Legal Services to the Public Committee honored central Pennsylvania lawyer John W. Frommer with its Jeffrey A. Ernico Award at the annual dinner of the Cumberland County Bar Association on Jan. 16, 2020.
Attorney Frommer has been litigating Pennsylvania workers' compensation and personal injury cases for more than 30 years. His workers' compensation practice has grown to include all of eastern and central Pennsylvania. His commitment to helping clients is reflected in the significant free legal service he provides in the community. He has received the PBA Pro Bono Award three times and has twice been named the Dauphin County Bar Association's Pro Bono Lawyer of the Year. He has served two terms by appointment of the Pennsylvania Supreme Court as a Disciplinary Hearing Committee member, where he heard cases involving lawyer misconduct. He continues to lecture on current workers' compensation topics throughout the commonwealth.
Legal aid and pro bono professionals praised Frommer for taking cases that required great amounts of time, both in and out of the courtroom. He was also singled out for taking on difficult situations, such as helping a client who did not meet the financial limits of legal aid on paper but had such actual limited resources that, but for Frommer's involvement, would have been left unrepresented in a complicated matter.