Daniel J. Clifford Receives 2014 PA Bar Association Pro Bono Award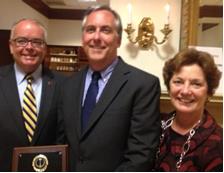 Montgomery County lawyers and judges celebrated the pro bono partnership of the local bar, the courts, private practice attorneys and legal aid professionals that help the neediest among us have access to justice in September as noted family-law attorney Daniel J. Clifford was honored with a 2014 Pennsylvania Bar Association Pro Bono Award.

William H. Pugh V, PBA president-elect, presented Clifford with his award and called on all lawyers to follow his positive example of giving back to the community. Pictured here are Pugh, Clifford and Nancy Paul, Executive Director of the Montgomery Bar Association.

Attorney Clifford has been recognized by the publisher of Super Lawyers magazine as being among the top 5 percent of family lawyers in Pennsylvania. He has received Awards of Merit for his work in the area of international parental child abduction on numerous occasions from the National Center for Missing and Exploited Children and is on the assigned counsel list maintained by the State Department to represent parents in these Hague Convention matters.

Attorney Clifford also recently finished his term as Chair of the 1,400 member Family Law Section of the Pennsylvania Bar Association. In this position, he was responsible for the planning and execution of two statewide conferences, presiding over a large deliberative Council and representing the Family Law Section throughout Pennsylvania. During his year as Chair, Attorney Clifford advocated his vision for improvements to Pennsylvania's family court system, including creating a video on how to interview children during custody proceedings.