Pennsylvania's Courts: Where Are They Now & Where Are They Going? (Virtual Event)
9:00 AM - 10:30 AM
Eastern Time (US & Canada)
By: Pennsylvanians for Modern Courts, Morgan Lewis & Bockius
Topics:
Attorneys / Legal Services
Civil Procedure / Administrative Law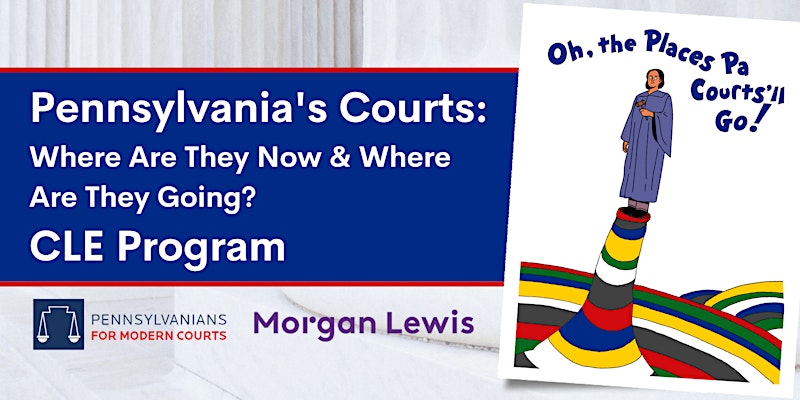 Pennsylvanians for Modern Courts and Morgan Lewis & Bockius invite you to join a live webinar on the Pennsylvania Court's civil system's advancements during and as a result of COVID and where they are headed, as well as what limitations the Court system faces, including but not limited to funding.
Presenters
Carl Solano, Esq., Moderator, Retired PA Superior Court Judge
Laura Hughes McNally, Esq., Partner at Morgan Lewis & Bockius LLP
Geoff Moulton, Esq., Retired PA Superior Court Judge, PA State Court Administrator
Jay Silberblatt, Esq., Partner at Silberblatt Mermelstein, P.C., President, Pennsylvania Bar Association
Thomas Vanaskie, Esq., Retired Judge of the 3rd Circuit, Of Counsel at Stevens & Lee
Cost
$20 if requesting CLE credit. There is no cost if you are not requesting credit. Morgan, Lewis & Bockius attorneys may register free of charge, whether requesting credit or not.
Platform
WebEx
Questions
For questions about registration, payment, or the program agenda, please contact Kathleen Moyer at moyer@pmconline.org. For questions about CLE credit, please contact Morgan Lewis' CLE department at clecreditrequest@morganlewis.com.
---
CLE Credit Comments:

Pennsylvania CLE Credit: 1.5 substantive CLE credits in PA (currently pending approval)

For questions about registration, payment, or the program agenda, please contact Kathleen Moyer at moyer@pmconline.org. For questions about CLE credit, please contact Morgan Lewis' CLE department at clecreditrequest@morganlewis.com.

Contact:

Pennsylvanians for Modern Courts